WELCOME
Women's Hope Foundation (WHF)

Women's Hope Foundation (WHF) is a women's and girls serving non-profit, non- governmental organizations. WHF believes that as women and girls are beset with numerous challenges and problems, there is the need to develop innovative approaches and programs, which encourage women and girls participation to save their lives, sustain their dignity and development
Goal
WHF's goal is to contribute to the creation of a generation of people who have a positive view about human rights and are empowered to make safe and responsible choices.
Mission
WHF exists to create an equitable and just environment for her target groups by embarking on programmes and projects that lead to an improvement in quality healthcare, promote adequate access to information and fundamental human rights, equal participation in decision-making processes in all spheres of social life at all levels and economic independence in Ghana.
Our Vision
WHF's envision a society where marginalized and disadvantaged women, girls, children and youth are healthy, well informed and participate equally in the socio-economic and political development of their society and their human rights is being respected, supported, protected, promoted, and acted on to ensure the development and dignity.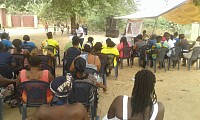 Our Approach

We believe that vibrant young women have the power to unlock transformational and lasting solutions to Ghana's development challenges. It is a fact that when catastrophes strike in the form of illness or conflict, displacement, or hardship, women and girls are more likely to shoulder the burden of keeping families and households together. Nothing illustrates the burden more amply than the impact of HIV/AIDS on women due to the underlying ideology of patriarchy and the deeply rooted outmoded socio-cultural practices such as widow-inheritance, forced marriage, barbaric widowhood rites that are still invoked in some rural communities. The youth (in/out of school) are also at great risk of HIV infection in the wake of the pluralistic fashions and modernization. All forms of violence against women and children continue to affect the victims physically, psychologically, economically, and socially. These have prevented them from realizing their full potentials. Most women are found in the lower and middle rank of the economy. Their voices are not to be heard in some homes, communities, and among some religious groups. They are relegated to the background where decision making is the preserve of men at all levels. The organization works to increase the effectiveness of citizens especially women and girls to achieve an equitable and inclusive society.
Our approach includes:
Hold dialogues, fora, workshops, and seminars on women's human rights including economic, health, social, and political rights.
Organizing capacity building training workshops on women's human rights for women group leaders, queen mothers, and agencies working on women's and girls' issues. 
Conducting outreach education campaigns to disseminate accurate and relevant information about violence against women and girls, sexual and reproductive health and rights information including HIV/AIDS.
Advocating for the access and correct information on SRHR in order to provide better support system for marginalized people including LGBT, sex workers, persons with disability and people living with HIV.
Providing HIV friendly services such as counseling, testing, condoms and lubricant for high-risk young people.
Training marginalized and disadvantaged young people in income-generating and job creation activities.